Here at Icon Engineering we pride ourselves in providing our customers with the latest and most specialised of services. Some of the specialist services we provide include:
Bio-Decontamination
Bio-decontamination is required to make units SAFE prior to maintenance, and to drastically reduce your environmental loading in processing and clean rooms. Bio-decontamination is often used when a suite of rooms has been unused for a period of time, or when Environmental Monitoring shows high counts of moulds or other microorganisms.
Vapourised Hydrogen Peroxide (VHP) is an highly effective bio-decontaminant and has been used to sterilise laboratories for over 20 years. The technology was famously used following the 2001 Anthrax attacks in the US. As technological advances offer us new solutions to decontamination, it becomes clear that previous methods, typically using formaldehyde, chlorine dioxide and other steriliants are not only outdated, but also have unacceptably high levels of exposure to carcinogens.
Advantages of Bio-Decontamination:
• Accelerate your Environmental Monitoring programme
• Extremely high kill rates
• Every decontamination is verified through the use of Bacterial and Chemical Indicators
• Safe to use and does not persist in the environment.
• Highly inert, will not react with most sensitive electrical and other forms of equipment.
• The sterilant decomposes to environmentally-friendly water and oxygen.
SF6 Tracer Gas Testing
SF6 Tracer Gas Testing is a method used to determine the containment factor of a Fume Cabinet following its installation. It is a requirement on EN14175-3:2003 and is an important test as it provides the system owner with an indication of the effectiveness of the fumehood extraction and operator protection.
Ki Discus Containment Testing
The KI-DISCUS Test is defined in the European Standard for microbiological safety cabinet, EN12469:2000, as a test method for validating the operator/aperture protection performance of MSCs. Suitable for testing Class I, Class II and Hybrid Cabinets, as well as for cross contamination applications.
 Energy Surveys
With Climate Change becoming an ever-growing global threat, energy efficiency and conservation is at the forefront of everything we do at ICON Engineering. Our energy consultancy tea, consist of personnel with expertise in environmental, renewable, mechanical, power, electrical and manufacturing engineering. We can provide our clients with a turnkey service, including initial strategy and opportunity advice. 
As part of a design review of proposed or existing plants, ICON Engineering are able to perform Energy Strategy Audits, which analyse the efficiency of existing plant use, whilst also proposing solutions as to how energy and cost-savings may be made. We offer an in-depth knowledge of a wide range of mechanical building services systems with a particular view to energy optimisation:
• Building Management Systems
• Compressed Air Systems
• Laboratory Services
• Cleanroom Services
• Industrial Ventilation Systems
• Low Pressure Heated Water / Chilled Water Systems  

Our auditing services can significantly reduce your energy usage and help your business by reducing costs and promoting a greener image. Monitoring equipment, data loggers & thermo-graphic cameras enable us to carry out building energy audits to identify usage, losses, faults and opportunities. 
Typical opportunities identified during an audit include the optimisation of: 
• Heating, Ventilation and Air Conditioning Systems
• Building Management Systems (BMS)
• Chiller and Refrigerant Systems
• Boiler Systems
• Steam Generation and Distribution Systems
• Compressed Air Systems
• Pumps, Fans & Motors
Air Barrier/Air Curtain Supply and Installation
ICON Engineering have many years of experience in the installation of Air Barriers. Air Barriers have many benefits including the following:
• Saves energy by keeping the heating or cooling inside the building and the outside temperatures out.
• Improves indoor air quality by keeping dust, fumes and insects out.
• Creates a more productive and comfortable environment for employees and customers.
• Assists in creating safer environments by increasing air circulation and making openings safer for employees and forklifts to pass through unencumbered.
• Allows visibility across thresholds and easy access and egress through openings, thus increasing safety.
Duct/Extraction Hood Cleaning
Grease and debris can be a fire and hygiene hazard when present in ducting and extraction hoods. At Icon Engineering, we can bring your duct or extraction hood back to its former glory and vastly reduce the associated hazards.
Call or email us using the buttons below for further information on any of our services or to request a quote.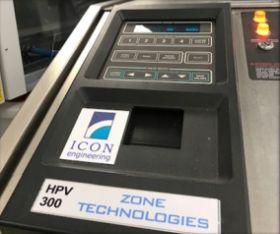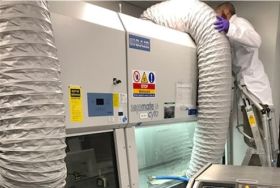 Get in touch below to request a quote for your business.